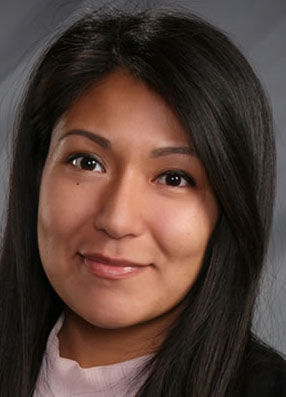 Monica Reyes
WATERLOO — Gunda Brost experienced "Iowa nice" when she was a child and her family immigrated from Germany.
"But sometimes it's very superficial," she said. "If you want to make people feel welcome, actually mean it. If you ask how are you doing, take some time and listen to their story."
Brost, now a Cedar Falls immigration lawyer, offered the advice Thursday to a hardy crowd who gathered at the Black Hawk County YWCA in Waterloo to hear Cedar Valley immigrants and refugees share their stories, hopes and dreams.
The event, sponsored by Cedar Valley Advocates for Immigrant and Refugee Rights and other organizations, was designed to prompt a conversation and foster understanding about the area's growing and diverse newcomers.
"Whether we like it our not, there's always going to be immigrants," said panelist Monica Reyes. "There's going to be people fleeing whatever problems they have, and we need to (have) a system that accepts them."
Reyes was 3 when her mother fled her abusive husband in Mexico, but she has not been allowed to gain citizenship. Reyes and her sister have become advocates for immigration reform.
"When you call somebody illegal — even if you're saying 'illegal immigrant' — that is taking away their humanity," she said. "I'm just like you guys: educated. I debated Hawkeyes versus Cyclones my whole childhood. I grew up with corn dogs, hamburgers, chips."
America is a much newer and more difficult place still for Burmese immigrants Shaw Reh and Liani, who both fled their native country during civil war. They spent many years living in refugee camps in Thailand and Malaysia, respectively, before making it to the U.S., where their families eventually found jobs at Tyson Fresh Meats.
Liani recalls crying every night as her family, expected to find work within three months of arriving in the U.S., struggled with language and other barriers.
"We could not speak any English so we had many troubles," she said. "Ninety days is not enough to learn American culture or learn English."
Reh, who spent his first 13 years growing up in a refugee camp, said he was picked on by classmates when he attended grade school in Louisville, Ky. But he noted "in Iowa, people are nicer."
Bullying of immigrant and refugees is something Dema Kazkaz said must be addressed in schools.
A Muslim who immigrated from Syria 18 years ago, Kazkaz said her kids and other children of Middle Eastern descent were often treated poorly in schools after 9/11 and again today.
"Unfortunately that Islamophobia industry is alive in election years," Kazkaz said. "These candidates will just keep competing who wants to get more voters by fear mongering."
Panelist Umaru Balde is a native of Guinea-Bissau who was given away by his father to a Muslim sheikh, lived on the streets, joined the military at age 14 and fled the country in 2008 when civil war erupted.
He works at the YWCA today helping other immigrants and refugees adjust to life in Iowa. Balde hoped the forum would encourage others to pay more attention to the needs of their new neighbors.
"Some people are tolerant but they're not accepting, and there's a difference," he said. "People want to be accepted."
http://wcfcourier.com